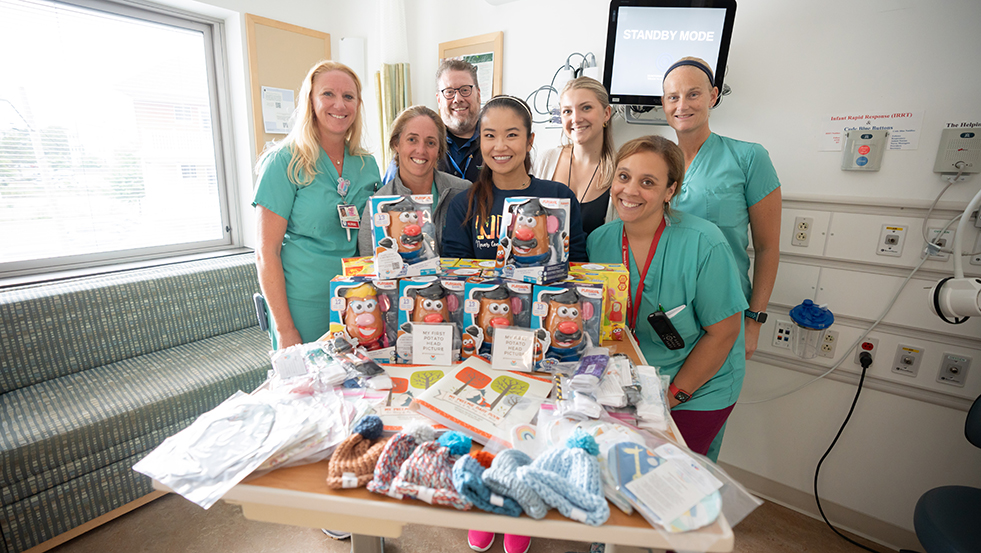 Before COVID, every new class of Primary Care-Population Medicine students got into groups to build a Mr. Potato Head as quickly as possible. But the pandemic ended the team-building activity, and the toys ended up in the Medical School basement, collecting dust.
Last spring, Jessica Goncalo, an administrative coordinator in the Office of Medical Education, was cleaning out the basement and found the forgotten toys. Elizabeth Smith, director of the PC/PM Program, suggested they find an organization that might want them.
"We wanted to donate the Potato Heads to somewhere where we knew they would be used and appreciated," Goncalo says. In her research, she discovered the Mr. Potato Head Project, which donates the toys to families of preemies who are in the NICU, along with blankets, hats, and other supplies. The families use the Mr. Potato Heads to take photos of their tiny babies as they grow, to show how far they have come.
"After reading about why they started the cause and the stories of families that experienced the generosity of this company, I knew it was exactly what we were looking for," Goncalo says.
Goncalo sanitized everything and shipped them to the project, which is based in Minnesota. "We had three boxes of the regular Potato Head bodies, eyes, ears, arms, and legs," she says, plus "an additional box of accessories such as different styles of hats, shoes, earrings, sunglasses, purses, and other fun items." 
The organization incorporated these donations into a "huge care package" for the Women & Infants Hospital NICU, Goncalo says. In addition to the repackaged Potato Heads, they  also received handmade, preemie-sized leg warmers, hats, and blankets, books about spending time in the NICU, and other items to support families and their babies.