THE YEAR WAS 1972. NIXON WAS PRESIDENT, Elvis was King, and Rhode Island was one of only a handful of states that didn't have its own medical school. As a result, citizens had to travel out of state for specialized medical care, federal research dollars were flowing right past the Ocean State, and there was no pathway to attract young physicians to practice here, just as the population was booming. From 1966 to 1971, Rhode Island sent proportionately fewer state residents to medical school than any other state in the country.
Enter Brown. In the 1960s, the University had begun investing in biomedical research facilities and faculty. The school's leaders consulted with state government and saw an opportunity to establish a medical program that would be imbued with the ethos of Brown, attract world-class physicians to practice in the state, and contribute newly trained physicians to serve Rhode Island. And with that, a medical school was born.
1972: Humanistic Medical Education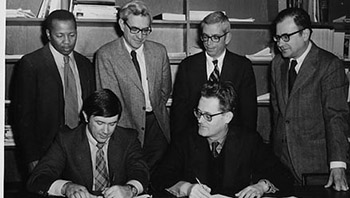 On March 10, the Corporation of Brown University approves the creation of a four-year medical education program, paving the way for Rhode Island's first and only medical school. The founders and first students of the school were charged with creating a curriculum that "must meet the urgent needs of the broader medical education which doctors must have if they are to prepare themselves for a humanistic approach to medicine by studies providing an understanding of, and sensitivity to, the broadest aspects of human experience in its personal and social dimensions." Early leaders sign documents establishing the medical school.
1973: Rhode Island's First Kidney Transplant
Robert W. Hopkins, MD, performs the first kidney transplant in Rhode Island on a high school student from Central Falls. A Harvard-trained vascular surgeon at The Miriam Hospital, Hopkins was just one of a number of physicians whose decision to come to Rhode Island was influenced by the presence of the medical school at Brown. Others include oncologist Paul Calabresi, MD, who pioneered the combination of chemotherapy, surgery, and radiation to treat cancer; Milton Hamolsky, MD, an endocrinologist who designed a better test for thyroid hormone levels; and Henry Randall, MD, the "father of parenteral nutrition" who developed intravenous feeding.
1975: First Class
On June 2, Brown University awards Doctor of Medicine degrees to 58 students—45 men and 13 women—the first people since the 1820s to pursue and complete academic medical studies and clinical training in Rhode Island. With that, the school attains full accreditation from the Association of American Medical Colleges.
1976: Expanded Access with Early Admission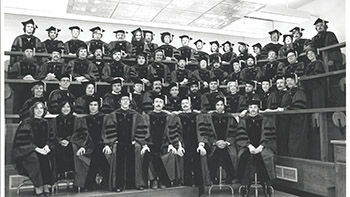 The school's founding dean, Stanley Aronson, MD, and Professor Richard McGinnis, PhD, of Tougaloo College—a historically black college in Jackson, MS—initiate an Early Identification Program to provide a pathway for outstanding college students to pursue their medical studies at Brown. The partnership is an outgrowth of a student exchange program created in 1964, at the height of the civil rights movement, between Brown and Tougaloo. The EIP also offers provisional admittance to exceptional Rhode Island residents enrolled at the University of Rhode Island, Rhode Island College, or Providence College in their junior year of college. The EIP continues today as a route to medical school admission at Brown for students from Rhode Island and Tougaloo.
1984: Getting Wiser about Getting Older
Dean of Medicine David S. Greer, MD, and renowned gerontologist Sidney Katz, MD, establish the Center for Gerontology and Health Care Research at Brown. The center investigates the health care and social service needs of the elderly and the chronically ill, in the context of the science and psychology of aging and illness, to improve their quality of life. In subsequent years, similar centers and institutes have formed to coalesce research and its application to care in areas such as alcohol and addiction studies, HIV/AIDS, Alzheimer's disease, and digital health.
1996: How to Train a Doctor
Brown School of Medicine launches the MD2000 Curriculum, a competency-based model, designed to build and assess students' mastery of nine core abilities and a knowledge base considered essential for practicing physicians. The abilities stress effective communication; basic clinical skills; using basic science in the practice of medicine; professional development and personal growth; the social and community contexts of health care (updated to health equity and racial justice in 2020); and moral reasoning and clinical ethics. The curriculum is heralded as a model and replicated at medical schools in the US and abroad.
2001: Responding at Ground Zero
The Rhode Island Disaster Management Assistance Team, including a number of Brown medical faculty and students, deploy to Ground Zero in the wake of the September 11 terrorist attacks. The RI-DMAT and the disaster medicine division of the Medical School's Department of Emergency Medicine have served the state—such as setting up the COVID-19 field hospitals at the height of the pandemic—and beyond, responding to Hurricane Katrina, the Haiti earthquake of 2010, and whatever disaster may come next.
2005: Studying Superfund Sites
Brown receives a four-year, $11.5 million grant from the National Institute of Environmental Health Sciences to establish a Superfund Basic Research Program to support research on the health threats posed by Rhode Island's contaminated industrial, commercial, and residential lands, and on ways to rehabilitate those lands. With 13 waste sites on the Superfund National Priorities List and another 300 brownfields requiring decontamination before they can be reused, Rhode Island is a prime laboratory for analyzing the health effects of asbestos, mercury, chromium, heavy metals, and other toxic consequences of the state's industrial history. The Brown program takes a multidisciplinary approach, engaging scientists from various fields—including medicine and public health—in collaborative research and translating their results into materials that will educate, influence policy, produce beneficial technologies, and improve environmental health and safety. It has been refunded several times and its work continues today.
2007: A Transformational Gift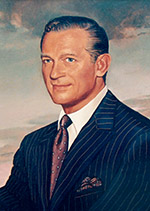 In January, The Warren Alpert Foundation, founded by Rhode Island-based businessman Warren Alpert, pledges $100 million to Brown Medical School, and the Brown Corporation votes to rename the school in the donor's honor. Much of the gift is used to build a home for the Medical School near Rhode Island, Women & Infants, and Hasbro Children's hospitals. The remainder of the gift creates two endowed professorships and an endowed fund for faculty innovation in medical education; it also supports biomedical research and creates the Warren Alpert Scholars Program, which provides medical scholarships.
2011: First Home for the Medical School Opens
On August 15, Brown celebrates the grand opening of the new home for The Warren Alpert Medical School. A 1928 building at 222 Richmond St. that previously housed Brier jewelry manufacturing received a $45 million expansion and retrofitting to become a new Jewelry District landmark and a highly visible and distinctive home for the Medical School. It marks Brown's first major development off College Hill and anchors a decade of revitalization and investment in the neighborhood. The state-of-the-art building provides classrooms, an anatomy lab, and study space for medical students.
2017 Brown Physicians, Inc. Forms
On May 25, members of the Corporation of Brown University and the presidents of six faculty practice foundations join in a formal signing ceremony to create the nonprofit Brown Physicians, Inc. The foundations are The Neurology Foundation, Inc.; University Emergency Medicine Foundation; University Medicine Foundation; University Surgical Associates, Inc.; Brown Urology, Inc.; and Brown Dermatology, Inc. BPI employs more than 500 physicians and works to achieve greater integration of patient care, research, and education across Rhode Island's health care sector.
2019 Treatment for Opioid Use
Brown's medical school becomes the first in the country whose graduates all have the training required to prescribe medications to treat opioid use disorder in any US state. The training has been integrated into all four years of the curriculum to help address the opioid use and overdose epidemic that has gripped the country.
2021 Cancer Center Gift
With $25 million from Pablo and Almudena Legorreta, the Cancer Center at Brown will turn basic science into treatments for patients in Rhode Island and beyond, and bring the University one step closer to National Cancer Institute designation, the highest federal rating a cancer center can achieve. Wafik El-Deiry, MD, PhD, leads the renamed Legorreta Cancer Center. Since coming to Brown in 2018, he has worked to build new research collaborations across the Medical School and its affiliated hospitals with a particular focus on developing novel insights on the types of cancer most prevalent in Rhode Island. These include lung, breast, and bladder cancer.
2022 That's SMART
With support from The Warren Alpert Foundation, a SMART Health and Wellness Clinic opens in Central Falls' Calcutt Middle School. It also serves as the inaugural site for SMART Plus, a professional pathways initiative led by the Medical School to spark student interest in health and medicine careers. Such pathways programs, including summer initiatives and the inaugural Black Men in White Coats Youth Summit held in October, provide mentoring to children and teens from backgrounds historically underrepresented in medicine (see page 20).
2022 A Boost for Alzheimer's Disease Research
Professor of Biology John Sedivy, PhD, will lead a multi-university effort to understand causes and potential treatments for Alzheimer's and other neurodegenerative diseases. Funded by $16 million from the NIH, the work builds on a previous award to understand how retrotransposons contribute to diseases associated with aging. The renewed grant will allow the researchers to investigate how potentially harmful DNA snippets called retrotransposons affect the cells of the central nervous system.
The Next 50 Years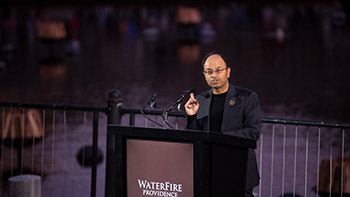 A milestone anniversary is just one stop on a long road, and The Warren Alpert Medical School's unwritten future stretches before it. In the near term, Brown will construct an Integrated Life Sciences Building in the Jewelry District to support cutting-edge research. The Medical School is investing in new areas of science, such as RNA biology, and in stronger ties with the community. The future of the Medical School is intertwined with Rhode Island's future. Mukesh K. Jain, MD, who became the eighth dean of medicine and biological sciences last March, took the opportunity to recognize that bond at the University-sponsored WaterFire in October. "Care for communities across Rhode Island, our 50 years of educating the next generations of doctors and scientists, and 50 years of innovations that have changed the face of science and medicine— it's really remarkable," he said. "Everything that we have achieved could not have been done without the community's support. Every Rhode Islander is a part of this school's history."